By Lou Zaninovich
On a mild, clear, spring-like Saturday morning, we gathered at the usual jump-off point – Saunders Park. Wally and Linda Freeman had already done an outstanding job of planning and organizing before we did the first mile. They had done a pre-run to lay out the route, basically west on Highway 58. Linda persuaded the manager of the upscale boutique motel,
La Serena Inn
, into giving us rooms usually priced at $130 for the low price of $89 Saturday and Sunday without extra charge. The hotel let us use the breakfast room for a potluck Saturday night.
While we formed up our ten car column at Saunders Park, Linda issued everyone an individual quiche Floren-tine and a blueberry muffin. This was very welcome to those who had al-ready been an hour on the road from Tehachapi.
Wally issued everyone a route plan with turning points, segment distances, and ETA's like the water and gas break at Buttonwillow junction. With four of us positioned along the column with walkie talkies, it seemed foolproof at the time. At 9:10 a.m. we launched westward.
All went well through Buttonwillow Junction, Buttonwillow town, McKittrick, and into the Temblor Range. Wally and Linda led in that beautiful white E Type Coupe, followed by Jeff Johnson in his red XK 140 Jag, then Sandra Sandstead in her red gnat MG Midget, Geoff and Barbara in the beautifully restored '69 MBG/GT, Pierce and Joan O'Leary in their im-maculate '79 MGB, Lou and Sula Zaninovich in that ebony '97 Miata faux Brit, (because their three Brits are on medical leave), Xavier and Olivia Ramirez in their Kia Sportage, Gary and Donna Boss in a Toyota Camry, Kevin and Eileen Lykins in a Chevy SUV, and "Tail End Charley" Harold Sugden and wife Carol in an Explorer, in cleanup position. Would they all make it?
Halfway up the curvy-curvy grade, we were all passed, Alpine rally style, by a Kamikaze in a blown Rice Rocket be-ing chased by a black Ferrari. Shortly after, our first casualty – the Toyota! Gary eased right onto a turnout, as if to take in the view. Kevin fell back to check on what was up, or help, if needed. By way of walkie talkies and cell phones we learned that the Toyota was out, and the Bosses' son in law would bring up a trailer from Bakers-field.
Then on across the Carrizo Plain, into the coastal hills, and arrival at the
Still Waters Vineyards
' Wine Tasting Room outside of Paso Robles. There the proprietor, Paul, a Cal Poly Viticulture grad and Oildale expatriate gave us a wonderful presentation of tastes and truths about winemaking. Throughout, Geoff kept remarking about seeing "legs" in his wine glass. "Not to worry," said Paul, "That may be a good thing."
Next,
Big Bad Bubba's Barbeque
in Atascadero. Plenty of good food and good prices. Even a couple of booths behind bars for rowdy customers.
Leaving Bubba's for Morro Bay, trouble struck again. Within two blocks, the back half of the caravan disappeared! Our phones couldn't raise them. No worry, we reasoned – they have Wally's route sheets. When we arrived at Morro Bay and the La Serena Inn, Tail End (Harold) was there ahead of everybody! Kevin got there a little later, but hours later for Sandra. She had followed Xavier, not knowing he was going to visit relatives in Pismo first.
The La Serena was modern and clean, the rooms well appointed and large, with many balconies overlooking the town, the south bay, and Morro Rock. The potluck was also a surprise birth-day party for Geoff (Saturday) and Lou (Monday), complete with cake, song and ribald cards. Sunday was an on-your-own day to relax, recover, or fol-low your nose around the area. Some folks weren't staying over and went home in the afternoon.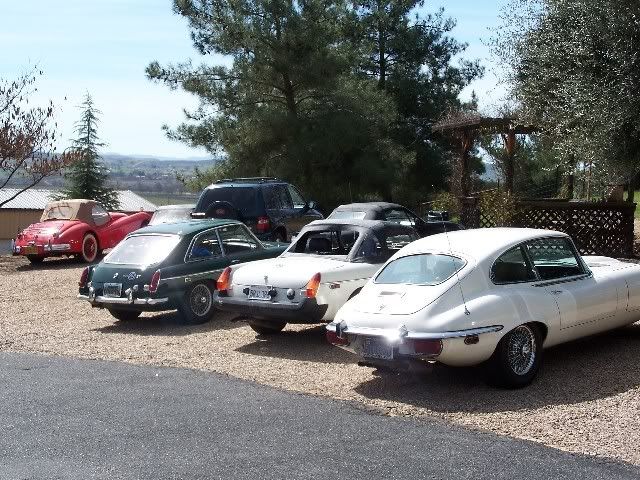 Monday, some club members did local visiting on their way home. Near San Luis Obispo, the O'Leary MGB died in the best area of the state for a vintage Brit car to do such a thing. Pierce was able to coast to a safe spot on an off-ramp from Highway 101. It was mid Monday, and Triple A towed them to British Motors of San Luis Obispo where Peter Jurgens quickly found an ignition short, then solved two other electrical problems that had been bug-ging Pierce.
The E Type and the Miata motored home uneventfully, and Wally and Linda finished the adventure with an afternoon barbeque at the home of Bernardo and Shirley Romingquet. More about that another time.