Bill Brewer – 1961 Triumph TR3A and 1967 Mini Cooper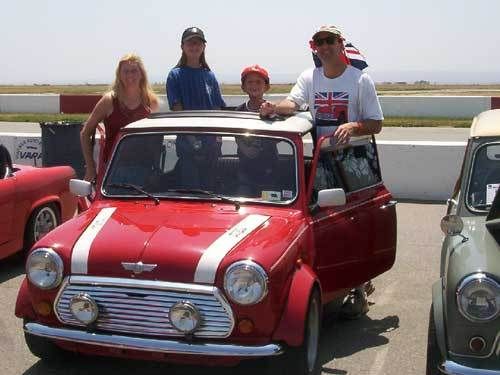 Many of the BBCC members remem-ber me because they ate at the bear Valley Springs Country Club for Moth-ers' Day brunch, got a glider ride, or took a tour at the cement plant in Tehachapi where I was automation pro-grammer. Well, do to a series of une-plainable wild and crazy events I ended up quitting on Friday the 13th of October and starting the following Monday at Scaled Composites in Mo-jave. Many members have taken a tour out there with the BBCC.
I am now Data Acquisition and Te-lemetry engineer for Burt Rutan and doing the instrumenting of White Knight 2 and Space Ship 2. It is an unbelievable fantasy come true. Unfor-tunately, it also cuts into the British car time heavily. I work extra hours every day and study at home at night.
The old Triumph TR3 will have to take a back seat for awhile until I get on my feet. When Scaled is open for tours again, after the Space Ship 2 rollout to the public, we'll see about getting an-other tour at Scaled!
Geoff Kimler – 1965 MGB
This is the B roadster I rescued from a barn out side of Cholame. I am replac-ing the complete front end, 'firewall' forward. It is in the body shop in Taft, been there a year or more. This past weekend I spent most of the day screwing it together in preparation for the final welding. I hope Lee is working on that this week! He has a little sheet metal work to do to get the left foot well to line up correctly but not much. It had taken a big wallop bending the frame and inner fender and that is why I had to splice on the front end off a donor car. It will be nice when it is all in grey primer. Stay tuned.
Wally and Linda Freeman – 1972 Jaguar E-type series III and 1967 Sunbeam
Linda's 1972 Jaguar E-type series III, is a white 2+2 with the original num-bers matching V-12 engine. It has not been restored and has been a Califor-nia Central Valley car since the begin-ning. We purchased the car in 1994 from the 2nd owner. Although not a daily driver, we do drive it frequently, especially on Club activities. It still has the original Blaupunkt radio (operating) installed by the importer in 1972.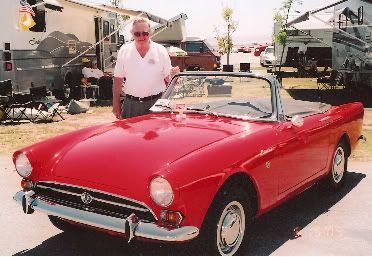 The 1967 Sunbeam Alpine series V, has the original 1725 cc numbers matching engine, which I believe has not been re-built or overhauled. The car was very professionally repainted by the previous owner, an instructor of automobile design at Pasadena Col-lege. The interior and trunk were re-stored at that time, and I have a new soft top to be installed this spring. It also has the factory removable hard top which is in very good condition.
This is the third Sunbeam Alpine I have owned. I purchased my first one soon after getting out of the Army in 1964. It was a 1959 Series I. I really loved that car but an overseas transfer forced a sale. Later, in 1968, I pur-chased a new Series V, while living in Germany. I drove the car all over Europe, Austria, Italy, Yugoslavia, Denmark, Holland, before bringing it to the USA, where again an overseas transfer forced a sale.
I had been looking for a replacement for years when I found our current car on the Internet. The rest is history.
Jon Paschke – 1967 Jaguar E Type series I
The car is a 1967 2+2 XKE, series one E Type to us. The car appears to be about 90% or more there and no rust or body damage, and it looks like a replacement motor was being in-stalled. A new exhaust is already in-stalled and a new radiator.
The interior is close to a 9 I'd say only missing the floor carpets and a small tear in the head liner. It looks to have new chrome wire wheels and tires although I don't know how old the tires are.
The paint is a total wreck, looks like it could have been green at one time
(rattle and hum cont.)
and it is covered with maybe "rattle can red paint" so after I get it on the road a paint job is in order and all new rubber seals everywhere.
The car was in a mini storage building for six years and then the owner dis-appeared and defaulted on the rent so it went to lien sale and as they say the rest is history, being in the right place and knowing the right people at the right time made it a once in a life time event for me. I never even would have dreamed of getting a British car like this ever in my wildest car day dreams. Needless to say getting this car going is on my front burner, come up any-time and check it out.
I think you could say it qualifies as one of the fabled barn finds, truly one of the luckiest finds in a while.