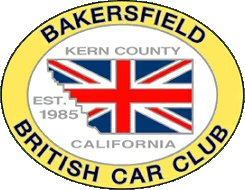 If you're in a club, you've got to have some type of club clothing to show off your club pride. Luckily, the BBCC has got some great patches - large and small - based on the club logo you see here. (That Brit flag is neatly nestled into the shape of Kern County, roughly cut on its left side by SLO County.)
I've seen the patches on Brit racing green polos, denim button ups and jackets of club members. I'm picking up one or two for a club jacket I'm creating.
I'm partial to the mechanic's style jacket and actually used to have one before it got lost somewhere on the pig trail of the Arkansas Ozarks. So I picked up a new slash pocket online at
Automotive Worker
. To be honest, I'm shamelessly stealing the idea from club member
Jon Paschke
, whose charcoal gray jacket's got a name patch, British car marque and club logos and flags stitched all over it.
The jacket is made of some secret blend of poly-cotton that will apparently withstand a nuclear explosion or good soaking in battery acid. So it'll have style
and
longevity. Should last me for a long time - that is unless I leave it in some old diner somewhere.
If you're interested in picking up a patch or two, contact the club treasurer
Lou Zaninovich
.

***
Got any club clothing or other club paraphernalia ideas? Share them here by clicking "comments" below and posting as "other."